If you've got a small penis, going between the sheets can feel intimidating. What's she going to think? Will she laugh? What if the last guy she fucked was hung like a horse and she won't be able to feel it when you penetrate her?
First off, take a deep breath. While some people think the average guy has a cock that hangs halfway to his knees, that's just not the case. As a matter of fact, the average length is between 4.7 and 6.3 inches when erect and men are way more worried about the size of their cock than are the women fucking them, with an estimated 85% of wives satisfied  with their husband's package.
Instead of fretting, the best thing you can do is learn to work with what you've got and discover the best sexual positions that penetrate deep and make your little pecker feel like a massive dong. And that's what I'm here to help you with today.
Best Sex Positions for a Small Penis
Doggy Style Variation
Let's face, doing it doggy is a fan favorite. But instead of having her spread her legs wide to allow space for your body, have her legs be on the inside. This creates a nice tight canal for your cock and makes your cock feel thicker and longer for her.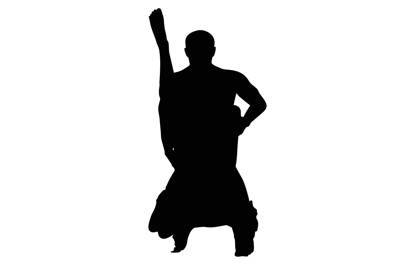 The Splitter
Have her lay on her back and kick one leg up to rest her ankle on your shoulder. Get on your knees and straddle her other leg before penetrating her. Hug the leg on your chest and use it to increase the leverage of your thrusts.2
Legs in the Air
She's on her back, you're on your knees or standing. Her legs are in the air and her shoulders are resting on your ankles. Your hands are under her ass, lifting her hips off the mattress. If this is too difficult or uncomfortable, use a pillow to prop her hips up. This angle makes g-spot stimulation more likely. Variations include crossing the legs, making an X or, my favorite, having her bend her knees and put her feet on your chest. This allows you to lean over her and put some weight on your hands.
Sitting Face to Face
Sit on the edge of the bed, feet on the floor. Have her straddle you and wrap her arms around you like you're embracing. Chest to chest is always sexy and she can grind against you, providing lots of clitoral stimulation.4
Cowgirl
Woman on top is always a good choice. It gives her control of the motion and can make her orgasm likely. Grinding, instead of bouncing, can reduce the risk of slippage and help her get off by stimulating her clit.
Knees Toward Shoulders
Start in missionary then have her draw her knees back towards her shoulders and rest her calves or ankles on your shoulders. Put that trusty pillow under her hips to penetrate even deeper. If you want to try anal sex, this can be a great variation for that, too.
69ing
Always a favorite, opt for 69ing if you're worried about having a small penis. Learn to excel in other areas, such as oral sex, can boost your confidence and ensure your lady gets off. Remember, only 20% of women can cum from penetration alone, so don't get too caught up in the penis-in-vagina mindset and let your idea of fucking each other grow.
Are you ready to have the sex you've always wanted? Get my FREE ebook all about how to talk to your partner and building the sex you've dreamed of!